Be sure to ask your server about this week's specials!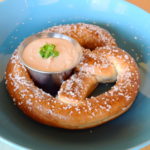 Our food is made from scratch. Many different items such as onions, peppers, garlic, cilantro and mangoes are used for flavor. If you have allergies, please let us know.
SOFT PRETZEL & BEER CHEESE
Creamy beer cheese made with BeachFly Canova Sunrise Red Ale served with a freshly baked soft pretzel.
ROASTED JALAPENO POPPERS
Not your ordinary poppers! Roasted fresh jalapenos filled with our homemade beer cheese and sprinkled with crispy bacon.
HUMMUS
A healthy snack to share! Comes with pita chips, carrots and celery.
BEACHFLY SALAD
               Chopped lettuce, ham turkey, radishes, and a blend of provolone and mozzarella cheese.