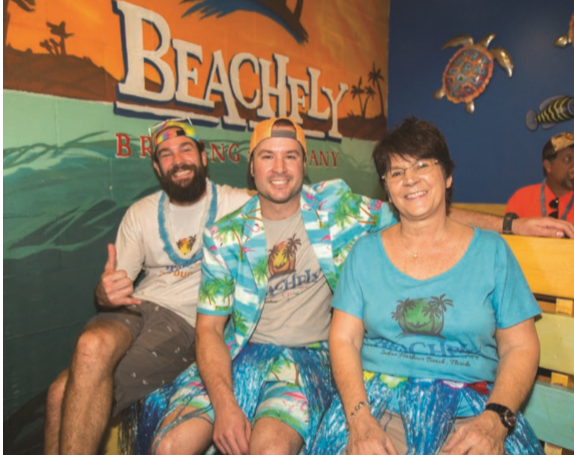 BeachFly Brewing Company, Brevard County's newest brewery, was created by mother/son team Lisa Freismuth and Zach Featherstone. We got the idea when Lisa's brother, Phil, owner of Horsefly Brewing Company in Montrose Colorado, visited Lisa on the Space Coast and witnessed the growth of the craft beer industry in Florida. Zach was a Biomedical Engineer tiring of the corporate world and always had a dream of "having a bar by the beach." The two collaborated and soon BeachFly Brewing Company was born! 
Lisa, a local CPA, joined her son as financial advisor and partner.  Zach dabbled in home brewing, but not enough to create the many beers for BeachFly. When he first met Will Brant, a Satellite Beach native who had recently moved back to the Space Coast, they spent two hours just talking about beer. After spending five years honing his brewing craft at breweries in Denver, Will had a dream of "brewing by the beach". It was a natural fit for Will to become the Head Brewer for BeachFly Brewing Company.
The brewery started in Indian Harbour Beach in November 2018 with three beers.  BeachFly moved to Rockledge in 2020, renovated the building, and reopened April 1, 2022.  The brewery now has sixteen beers on tap – five core beers and eleven seasonal/rotating taps. BeachFly's core beers on tap are a tropical twist to the classic styles which are always sessionable and particularly refreshing for a day at the beach or just relaxing in the Florida sun. The rotating selection ranges from experimental creations to classic styles, using locally sourced ingredients whenever possible.  We are proud to include gluten-reduced beers in the line up! 
The brewpub also serves a menu of non-typical bar food, including appetizers, paninis, and desserts that incorporate beer into many of the recipes.  The most popular item is beer cheese made with our Sunrise Red Ale.  It's served with a soft pretzel or as filling for roasted jalapeno poppers, made with fresh jalapenos, beer cheese, and bacon, or as beer cheese nachos.  Our pulled pork, marinated in Purple Porpoise Pale Ale and has a tropical twist and it great on the nachos! To finish it off, our Key Lime Pie is the best we've ever tasted, and pairs well with Turtle Trax.
We are excited to open our new location in Rockledge, and hope Rockledgers are excited to have their own local brewery.  The brewery has a definite beachy vibe, relaxed atmosphere, and great beers.  We're glad you are here!
"My beer philosophy is to be experimental and creative but always with balance and drinkability in mind." – Will Brant, Brewer