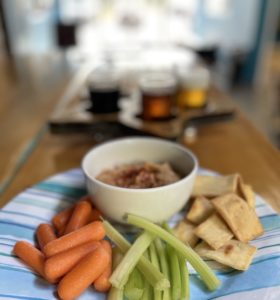 HUMMUS
A healthy snack to share! Non-GMO, vegan, and gluten free roasted red pepper hummus. Comes with organic carrots, celery, and pita pretzels.
SOFT PRETZEL & BEER CHEESE
Creamy beer cheese made with BeachFly Sunrise Red served with a freshly baked soft pretzel. Can sub whole grain mustard for Beer Cheese
ROASTED JALAPENO POPPERS
Not your ordinary poppers! Roasted fresh jalapenos filled with our homemade beer cheese and sprinkled with crispy bacon.
BACON WRAPPED STUFFED DATES
A rich blend of sweet dates, stuffed with creamy goat cheese and wrapped in savory bacon. Pairs well with Scallywag Foreign Extra Stout
BEER CHEESE NACHOS
BeachFly's twist on nachos – tortilla chips topped with our delicious beer cheese.  Add slow cooked BeachFLI.P.A. Pork or Chicken for a hearty, flavorful treat for $4 more
SMOKED CHEEZ-ITS 
You won't know how good they are unless you try them!
 PORK BELLY BURNT ENDS 
Smoked and candied pork belly chunks, a rich and tasty dish with enough to share
CHICKEN QUESADILLA 
Island Chicken and pepper jack cheese between soft tortillas, salsa available on request
MAC 'N CHEESE W/ PORK or CHIX
Mac 'n Cheese made with BeachFly's Beer Cheese and topped with Beachfly's seasoned pork or chicken; substitute candied pork belly for $1 more
All sandwiches served on Cuban bread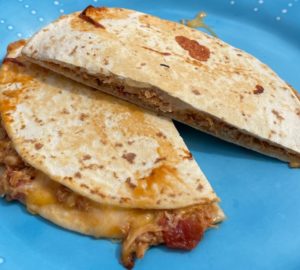 PORK AND CHEESE PANINI
BeachFly's own pulled pork, seasoned and slow roasted with BeachFLI.P.A. a slice of red onion, and sharp cheddar cheese.
CHICKEN AND CHEESE PANINI
BeachFly's Island Chicken, seasoned and slow roasted with Turtle Trax, with choice of cheese
CUBAN PANINI
Double the meat, double the cheese, marinated pork, ham, swiss cheese, mustard & pickle
HAM AND CHEESE PANINI
Just like it sounds – sliced ham and cheddar cheese; can also be served as a cold sandwich
CAPRESE PANINI
Fresh tomatoes, Fresh mozzarella, basil, and balsamic glaze – a delicious meatless sandwich
ZACH'S SMOKIN' WINGS
Six jumbo chicken wings, smoked for hours, then finished with your choice of seasoning: Bang -Bang, Cajun, Jerk, Lemon Pepper or Old Bay Rub; BBQ, Sweet or Siracha Thai Chili or Buffalo Sauce
CONSUMER ADVISORY Consuming raw or undercooked meats, poultry, seafood, shellfish, or eggs may increase your risk of foodborne illness, especially if you have certain medical conditions.
DESSERT PRETZEL BITES 
Sweet fresh baked soft pretzel bites sprinkled with cinnamon sugar.  Served with chocolate dip
BEER FLOAT OR
ROOT BEER FLOAT
A half pour of your favorite beer or glass of Root Beer and a scoop of creamy vanilla ice cream, all topped with chocolate sauce
BEACHFLY KEY LIME PIE
Sweet yet slightly tart house made Key Lime Pie on a graham cracker crust topped with whipped cream- a classic Florida dessert to brighten your beach day! Goes great with Turtle Trax!
Layers of Belgian Chocolate or Caramel Mousse on top of cookie crumble, topped with Belgian Chocolate Ganache and Whipped Cream
SCOOP OF ICE CREAM