SPACE KÖLSCH
Kölsch – ABV 5% IBU 25
Light German ale, balanced with traditional hops and malt to mimic this highly drinkable style
TURTLE TRAX
Fruited American Wheat Ale – ABV 5% IBU 20
American wheat ale with orange and tamarind, bright citrus aroma and a slightly tart finish make for a highly refreshing beer.
BEACHFLIPA
IPA – ABV 6% IBU 60
Our core IPA, dominated by notes of citrus and pine, with a mild, well-rounded bitterness.
SUNRISE RED ALE
Red Ale – ABV 5.5% IBU 30
American red ale with a rich malt profile that is carefully balanced with American hops and a clean finish.
SCALLYWAG*
Foreign Extra Stout – ABV 7.5% IBU 60
A very dark and roasty beer, aggressive bitterness, higher alcohol content, and a dry finish, give this Island stout a depth of complexity that develops as the beer warms up.
DRAFTS: Pints Half Pints 19.2oz Can
*12 oz pints, half pints, 19.2oz Can
Most beers are gluten-reduced and available in both 32 and 64 ounce growlers,4-packs, and 19.2 oz can
BEER FLYGHTS
YOUR CHOICE OF ANY 5 BEERS OR FLYGHT OF ANY 5 CORE BEERS – free sticker or $1 towards merchandise with each core beer flyght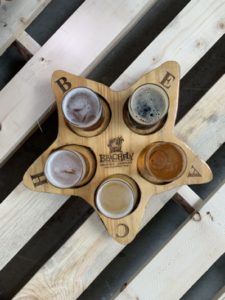 RUM BARREL SCALLYWAG 
Foreign Extra Stout – ABV 8.25% IBU 58
SHENANIGANS
Barrel Aged Doppel Bock – 9.25% ABV IBU 18
HAZY ON PORPOISE
Hazy Pale Ale – 5.2% ABV  6 IBU
A BIT OF ALRIGHT
English IPA – ABV 5.9% IBU 42
POG RED ALE
Passion Fruit Orange Guava Red Ale – ABV 5.9% IBU 18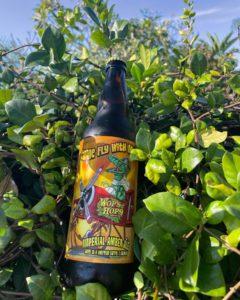 COQUINA COLADA
Pina Colada Sour IPA – ABV 4.2% IBU 40
A tart and hoppy pina colada inspired Sour IPA. Light, refreshing and bitter.
DOPP, BOPP, and ROCKET
Dopplebock – ABV 9% IBU 18
A very strong and rich, malt focused German lager, highlighting bread crust, toffee, and caramel flavors. Properly lagered, this style exhibits a sweet malt profile that balances with a higher alcohol content and a dry finish to retain drinkability. Careful now…
STRANDED*
Belgian Blond Ale – ABV 7.3% IBU 20
Light in color, and full flavored, this beer allows a very expressive Belgian yeast strain to wrangle in sweet malt character, low bitterness, and a prominent alcohol content into a very refreshing summer ale. 
BAIL!
West Coast IPA – ABV 7.3% IBU 70
A resinous American hop profile and noticeable bitterness, Bail! is aggressive in flavor and dangerously drinkable with a slightly malty, but bonedry finish.
WEATHER OR NOT  
Fall-Flavored Blond Stout APV 5% IBU 19
A truly controversial style, the blonde stout is brewed to mimic a stout in flavor and texture, but remain as light in color as possible. We added cocoa nibs, fresh roasted coffee, vanilla, and pumpkin pie spices to create this nostalgic fall beer, weather or not it feels like fall outside. 
KITSCH 'N SYNC
American IPA – 5.7%   40 IBU
Upfront bitterness, followed by subtle caramel malt sweetness and a rustic, piney, and citrus forward hop experience.  Rounded finish leads into soft-lingering bitterness sure to delight true hop heads.
FRENCH FLY*
French Saison – ABV 7.8% IBU 26
Golden hued, effervescent, and bone dry, this traditional European farmhouse style with French Saison yeast blends a complex grain bill with a slightly higher alcohol content. Full flavored but remains drinkable and delicate.
BARTON BEER 
Blonde Ale – ABV 4.9% IBU 10
Fizzy. Yellow. Beer. Best served cold on a hot day. Balanced American pilsner malt, and a late addition of cascade hops meld to make a simple, and crushable light beer. A delicious Mug 'O Beer.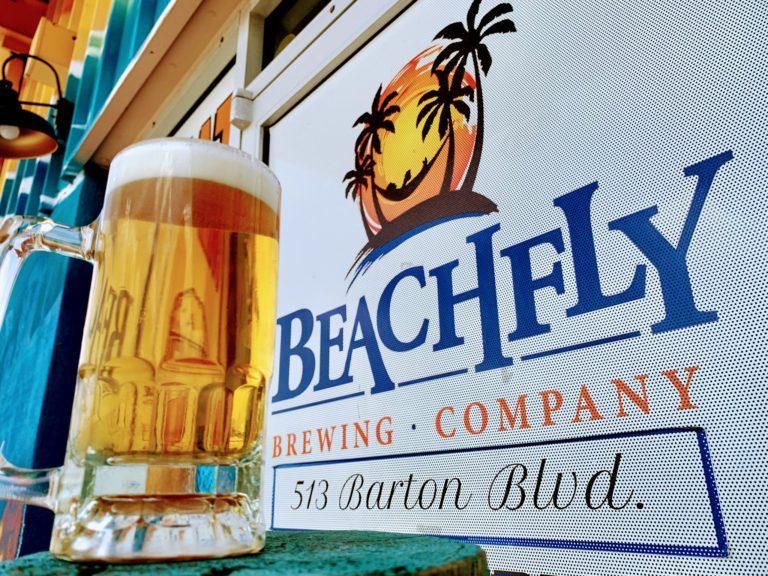 FLORA DUH
Star Fruit and Hibiscus Florida Weisse – ABV 6% IBU 10
Celebrating our fantastic local produce, this beer is lightly tart with a sweet finish and the essence of hibiscus and ripe carambola. After reaching the proper acidity, this beer was able to re-ferment on 100lbs of locally harvested star fruit

An easy to drink IIPA with a well-rounded flavor profile. A delicate balance of hops work in tandem with the hefty dose of local wildflower honey and small addition of lactose create enough body in the beer to hide the high ABV
COOL BEANS!
Brown Ale IPA – ABV 5.5% IBU 20
Light-bodied English Brown Ale with fresh locally roasted Guatemalan coffee recreates the sweet and smooth flavor of cold brewed coffee with a bold aroma and robust coffee profile.
BLACK AND BLOOBS
Blue Berry Porter – ABV 5.8% IBU 26
BeachFly/Sailfish Collab
An approachable Porter with 150lb of fresh Florida blueberries added in fermentation. A delicate balance of tangy blueberry and dark malt carries through from the first smell to the last sip.
STATION 1*
Red IPA – ABV 7.6% IBU 53
Brewed with the firefighters of Rockledge's Station 1! Starting with a resinous and malty sweet aroma, this beer finishes dry with a firm bitterness and a fruity hop character that is supported by a variety of specialty grains to accent the sweetness and give it a perfect red hue.
SMALL BATCH CHANGES WEEKLY
SHENANIGANS
Rye Whiskey Doppelbock – ABV 9.25% IBU 18
A strong malt focused German lager aged in a fresh Rye Whiskey Barrel from Oceanside Distillery.
TEMPEST
Barrel Aged Habanero Strawberry Wild Sour – ABV 8% IBU 10
Golden ale aged and soured in red wine barrels for 8 months to develop a complex and tart profile, then smoothed out by the flavor of the oak barrel. For this batch we then aged the beer on Florida Strawberries and Habanero peppers for a sour spin on the classic flavor pairing of sweet and heat.
Trivia Night Wednesdays @ 7pm
BE SURE TO CHECK OUT OUR MERCHANDISE ROOM!!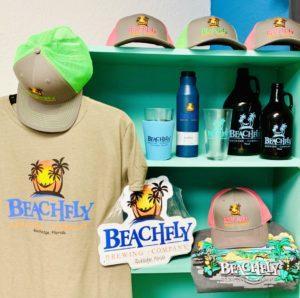 Available in glass or bottle
White Wine
Extraction Chardonnay
Sunbreak Chenin Blanc
Pinot Grigio
Moscato
Rosé
Gerberas Garnacha Rose
Red Wine
Primrose Trail Pinot Noir
Crooked Path Zinfandel
JV Cellar Cabernet Sauvignon
DG Malbec
Capo Z Cabernet Sauvignon
Single Serve Champagne
Pepita Sangria 
Red or White
Big Storm Vodka Sodas 
Blackberry, Peach
Lemon-Lime, Grapefruit, Pineapple-Passion Fruit
Cigar City Hard Cider
English Dry
Apple Pie
Kopparberg Premium Cider
Pear
Apple w/Tropical Fruit
Apple w/Strawberry & Lime
BEERTAILS
BEACHELADA – BeachFly's version of a Bloody Mary, made with our secret recipe and Sunrise Red
BERMOSA – BeachFly's version of a Mimosa, made with Space Kolsh, OJ, and a splash of bitters
GINGER SHANDY – Ginger Ale and Space Kolsch makes this a refreshing treat!
RADLER – Lemonade and Turtle Trax Tropical Wheat – perfect for the hottest days of summer!
NON-ALCOHOLIC
Leader Brewery NA Beer 
Stout; Pale Ale (N/A)
Kombucha /Root Beer 
House made on tap!
Soft drinks 
Gatorade 
Sweet Tea, Coffee, Tea